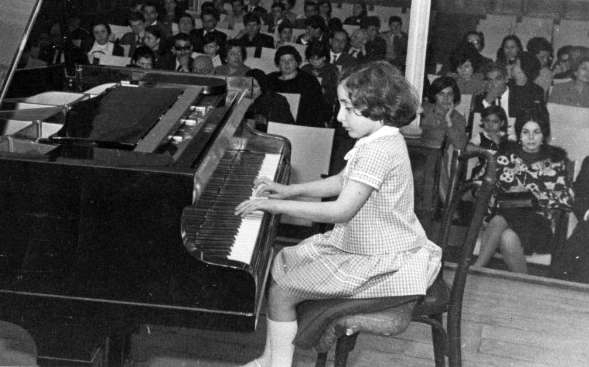 Meliha Doğuduyal grew up in a musical family in Istanbul surrounded by many artists and intellectuals. Her father, a music-theory and trombone teacher at the Istanbul Municipal Conservatory, was her first instructor. His primary instrument was trombone, played at the Istanbul Philharmonic Orchestra, but he also played various musical instruments, such as piano, violin and horn. There was always music in the house; every day with in their daily life.
Having a musical family paved the way for her to start playing piano at a very early age. She was only 3 years old when she began her first musical education with her father. At the age of 4 she was enrolled as a part time of student at the Istanbul Municipal Conservatory where she was trained as a concert pianist. Her first public performance was at the age of 7 and by 14 she was performing Bach concertos with local orchestras.
During school years, she was active in playing in recitals, accompanying soloists and teaching music to children and school choirs including Akbank Children Chorus. She had also learned flute and violin as well as trying some other instruments such as Mandolin, Saz and Ney.
At the end of her upper secondary school (lyceum) education, she entered the Istanbul State Conservatory where she became a piano student of Metin Ögüt and a composition student of İlhan Usmanbaş, one of the pioneers of Turkish contemporary music. In the meantime, she attended the courses given by Cemal Reşit Rey, Ercivan Saydam, Afşar Timuçin and Ahmed Adnan Saygun.

In 1991, she went to the Netherlands and studied advanced composition with Theo Loevendie and attended master classes with Louis Andriessen and Gilius van Bergeijk at the Royal Conservatory of The Hague. Meanwhile, she followed jazz and free improvisation courses led by Arnold Dooyeweerd in the Bimhuis in Amsterdam.
Since then, she has developed a rich and versatile style in her life and work which encompasses diverse tendencies and techniques that thrive on the contrasts of traditional and contemporary sounds, genres, movements and images.
As a pianist, she has appeared in many different settings, including musical theatre performances, vocal, chamber music and orchestral concerts in many European countries, Russia, Ukraine, and Lithuania as well as in many cities of Turkey. She has recorded and gave live broadcast concerts for Dutch, Swiss, German, Belgian and Turkish Radio-TVs.
A a composer, she has written in many styles encompassing orchestral music, chamber music, film and theatre music, pieces for solo Western and non-Western instruments and vocal works that have been performed by such leading orchestras and groups as Ricciotti-Orkest (NL), Orkest de Ereprijs (NL), Istanbul State Symphony Orchestra, Orchestra@Modern, Moscow Contemporary Music Ensemble, Interensemble (IT), Divertimento Ensemble (IT), Lontano Ensemble (EN), Ensemble Accroche Note (FR), Ensemble Mise-En (USA), Syrinx Quartet (NL), Stockholm Saxophone Quartet, Borusan Quartet (TR), Trio Amici dell'Arte (NL), Duo Levent (NL), Duo Axelsson & Nilsson (SE), to name a few.
Her music has been played almost everywhere: at festivals, concert hall, museums, universities, art & culture institutes, churches, theatres, clubs,
factories, on streets and on TV's/radios…
She is also the author of the book: "From Music to Word".